An Air Experience Flight (AEF) is the best way to taste what gliding is all about. Whether you just want to go for a fly, or are interested in learning to fly solo, this is the best place to start.
Your Air Experience Flight starts with a briefing from one of our highly trained instructors. The instructor will talk about what to expect during the flight and answer any questions you may have. You will fly in the front seat of one of our two-seat aircraft and the instructor will be seated behind you. The front and back each have a full set of controls. Once strapped in and ready, you will be launched into the sky either by winch or aerotow. When you have achieved launch height, your instructor will release from the rope/cable and then you will be as free as a bird! If the weather is suitable, your instructor will try to find a thermal to turn in so that extra height can be achieved. Your instructor will show you the local landmarks, and with any luck you may even see an eagle, the true masters of the sky. Should you wish to have a go on the controls, there will be the opportunity to do so. When approximately 20 minutes has elapsed, your instructor will land the glider back at the airfield.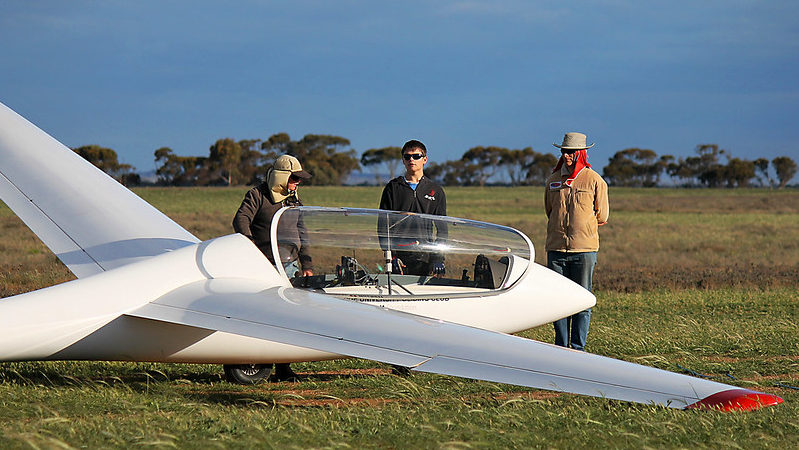 Below are some tips to help get the most out of your day with us.
Public transport to the airfield is non-existent. Should you not have a vehicle, there is most likely a club member heading out each day you could grab a lift with. Check out our carpooling page for further info.
Bring some drinking water.
Wear a hat, even if it's cloudy.
Wear the kind of clothing that you'd wear if you expected to go bushwalking for the afternoon (including enclosed shoes).
Bring a camera. The views are astounding.
Bring food for lunch if you want to. There is a very good bakery at Truro (15 minutes before you get to the airfield) where you can grab something to eat if you wish.
If you have any questions which aren't answered here, simply get in touch with our contact person. If you are ready to purchase, simply follow the payment buttons below. Note: you don't need to nominate a flight date when you purchase, that can be planned later.
FROM JUST $160
Get started with an Introductory Flight!